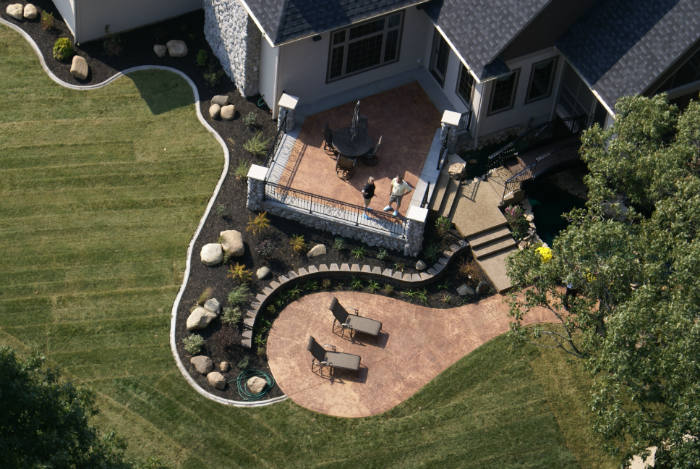 Landscaping & Landscape Design
Does your home need more Curb appeal? Abode can help.
At Abode Construction Landscape Division, we can do the job: big or small. Be residential or commercial, we have the necessary means to get the job done quickly and to perfection. With our highly trained and experienced staff we take great pride in bringing our knowledge and skills to your front door.
Hardscapes
Our hardscape designs incorporate the finest stone and pavers that complement the existing architecture. Our in-house masons are superior craftsmen. They offer a great sense of design, form, and proportion. Whether you prefer rustic or elegant settings, we can help you get away from the world without ever leaving home.
Lighting
Bring your home to life at night.  Safety lighting, such as at entrances and walkways or accent lighting of entertainment spaces extend and enhance your outdoor living.  Our lighting designers will create a plan to fit your needs and budget.
Water Features
Water features engage your senses with sight and sound. Abode has extensive experience creating custom water features for commercial and residential customers.
Light Your Life
Lighting for Safety and Outdoor Living
Security: well lit areas are a great start to deterring burglars.
Safety: making walkways visible at night limits falls and liability
Energy Efficient: LED technology uses up to 75% less energy
15 Year Warranty: Our residential systems have a factory exchange warranty for LED fixtures
50,000 hour LED bulb life (15 years)
Peace of Mind: Come home to a well-lit area at night.
Our Difference
Outdoor Rooms. Lighting. Water Features. Design & Implementation.
How do you select materials? The design and materials need to befit the setting.
Formal or Informal? The design and build of walls and steps can provide functional purpose and a dramatic architectural impact.
Instantly increase your home's usable space with an outdoor room.
"…Many times we heard how difficult it was to build and all the issues we would have to overcome. Our experience was fantastic and any problems we had were dealt with promptly and efficiently. In the very beginning the electricians contacted us and recommended additional lighting in the basement and they were right. We are happy we listened to them. They even took time move the lighting in the dining room to make sure it was exactly where we wanted it. "
"Best decision I have made! They are so easy to work with and very accommodating. I have had a great, stress-free experience and they still support my never ending questions. I love my condo 🙂
They are the best people to deal with! They do what they say and have great follow thru.
I have the Lansing floor plan and I love it. I love the windows they install way up high. Brings in so much natural light. That was a great idea!!!"