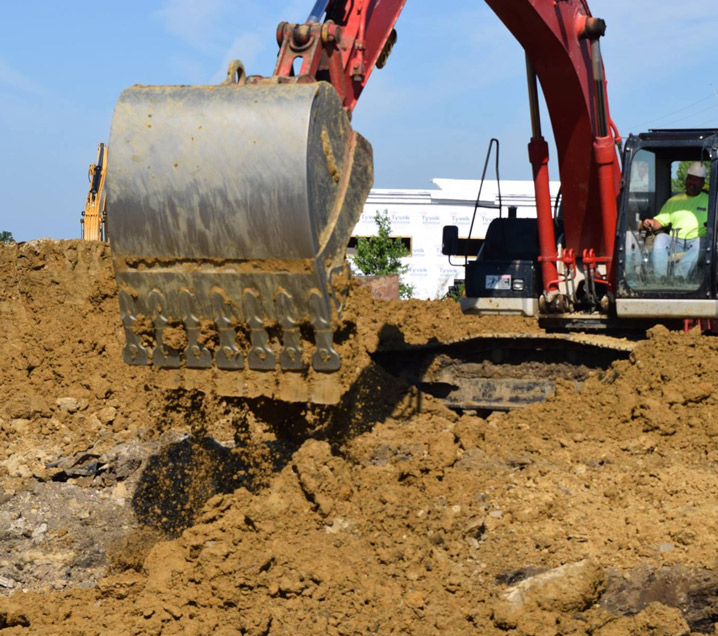 Excavation Services
We can service any area Contractor or Construction Company with Excavation, Earth Moving and Site preparation Services.
Site Preparation
The most important part of any project is the site preparation. At this stage we have studied all aspects of the project to remove any constraints before the work is started. This first step ensures that we complete the project efficiently and economically.
Clearing & Earthmoving
The removal of trees/rocks and other debris and excess dirt is relatively quick. We want development to start as soon as possible.
Trenching
It is important that this step is accurate in order for proper placement of sewer installation or utilities. We use a local engineering company to survey and map these areas to achieve accuracy.
Grading
Rough grading and final grading are done to the project specifications. Soil is restructured and compacted to the correct density.
You Can Trust Our Site Prep Experts
Abode Excavation Services:
Water and drain installation
Septic tank system installation
Basement and foundation digging
Landscaping for all needs and all sizes of projects
Grading and trenching
New construction and developments
Backhoe and bulldozer services
Our Difference
Digging. Loading. Moving. Grading.
"…Many times we heard how difficult it was to build and all the issues we would have to overcome. Our experience was fantastic and any problems we had were dealt with promptly and efficiently. In the very beginning the electricians contacted us and recommended additional lighting in the basement and they were right. We are happy we listened to them. They even took time move the lighting in the dining room to make sure it was exactly where we wanted it. "
"Best decision I have made! They are so easy to work with and very accommodating. I have had a great, stress-free experience and they still support my never ending questions. I love my condo 🙂
They are the best people to deal with! They do what they say and have great follow thru.
I have the Lansing floor plan and I love it. I love the windows they install way up high. Brings in so much natural light. That was a great idea!!!"